Power Trip Army Gear
Nov 14, 2006
By: Chris Macpherson
User Rating:
Viewed: 19,932 Time(s)
Every month I receive a handful of letters and emails from UpOnOne.com fans. What always surprises me is the great number I receive form soldiers in the US Army. These GI's often tell stories of gathering with friends to check out the site. Without fail, they always mention that they can't wait to get home, hop on their bike and hit the road.

In recognition of these motorcycling military men, Power Trip has released the "US Army Gear" apparel line. Officially licensed by the US Army, this tactical gear incorporates many unique features required by active duty soldiers who ride. The new product line includes jackets, gloves and casual wear for both men and women.

The folks over at Power Trip were kind enough to send us some of their new fatigues so we could have a closer look. We received two men's jackets, one leather (The Blackhawk) and one Mesh (The Delta). The first thing I noticed about both of these garments was the styling. Power Trip has put some real effort into making this clothing look good! The camouflage patters are perfect and the elaborate use of embroidery really gives these jackets a quality appearance. But the value doesn't end there, these jackets are meant to be ridden in and as such Power Trip has utilized top-quality materials to offer comfort, superior protection and years of wear.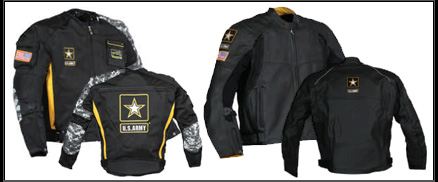 If you're a motorcyclist in the Army or one who wants to show your support, the US Army gear is for you. Look for the release of the Tactical Motorcycle Gear collection by Power Trip in the fall of 2006.

For more information, click here or visit www.Power-Trip.com to view the complete product line.

Chris Macpherson